eBook: Effective Workplace Communications
Other resources, articles and research
An expert commentary session presented by Lucy Sanderson-Gammon at the 2nd Public Sector Women in Leadership Summit 2015.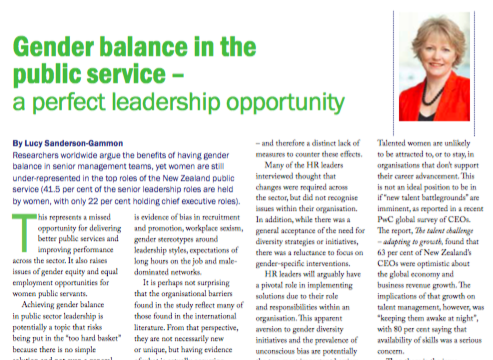 Published in: IPANZ Public Sector Journal Vol 37:3, September/October 2014
An article is based on the MBA research project - Gender balance in the NZ Public Service.
Why are there fewer women in the top roles and what needs to change? A strategic HRM perspective.
This research project focused on potential barriers to women's advancement inherent in organisational cultures and structures, rather than on individual deficits in women. This was based on the premise that, if the underlying systemic factors are not addressed, other initiatives that focus on developing individuals for leadership roles are likely to be undermined.
Research carried out by Lucy Sanderson-Gammon in 2013.